Product Description
| | |
| --- | --- |
| Number of LEDs: | 9 |
| Input Voltage: | 10 - 30VDC (Integrated Constant-Current IC) |
| Wattage: | 2 Watts (High), 1.3 Watts (Med.), 0.7 Watts (Low) |
| Amperage: | 0.167A at 12VDC |
| Beam Angle: | 120° |
| Color Temperature: | ~2,900°K (Warm White) |
| LED Package Type: | 2835 Type SMD |
| Lumen Output: | 180/120/60 (High/Medium/Low) |
| Base Type: | G4 Bi-Pin |
| Dimensions: | ø30mm x 5mm (+pins) |
| Polarity: | No |
| Dimmable: | Integrated dimming (High/Medium/Low) |
| Lifetime | 30,000 hours |
| Warranty: | 2 Years |
A BACK PIN MOUNT G4 LED BULB WITH INTEGRATED DIMMING! 3-LEVELS OF BRIGHTNESS USING YOUR EXISTING SWITCH
This G4 LED bulb features a built-in step-function dimmer that allows you to dim the bulb in stages --without an external dimmer. That's right, this smart G4 LED bulb has on-board electronics that uses your existing On/Off switch to step through the 3 levels of brightness: High (180 Lumens); Medium (120 Lumens); and Low (60 Lumens). Just flick the switch Off, then back On to step to the next dimming level. It will always default back to full brightness if the lights have been off for more than about 5 seconds.
You can change out all the bulbs on a switched-circuit, or just a few, and still maintain the dimming function where you need it.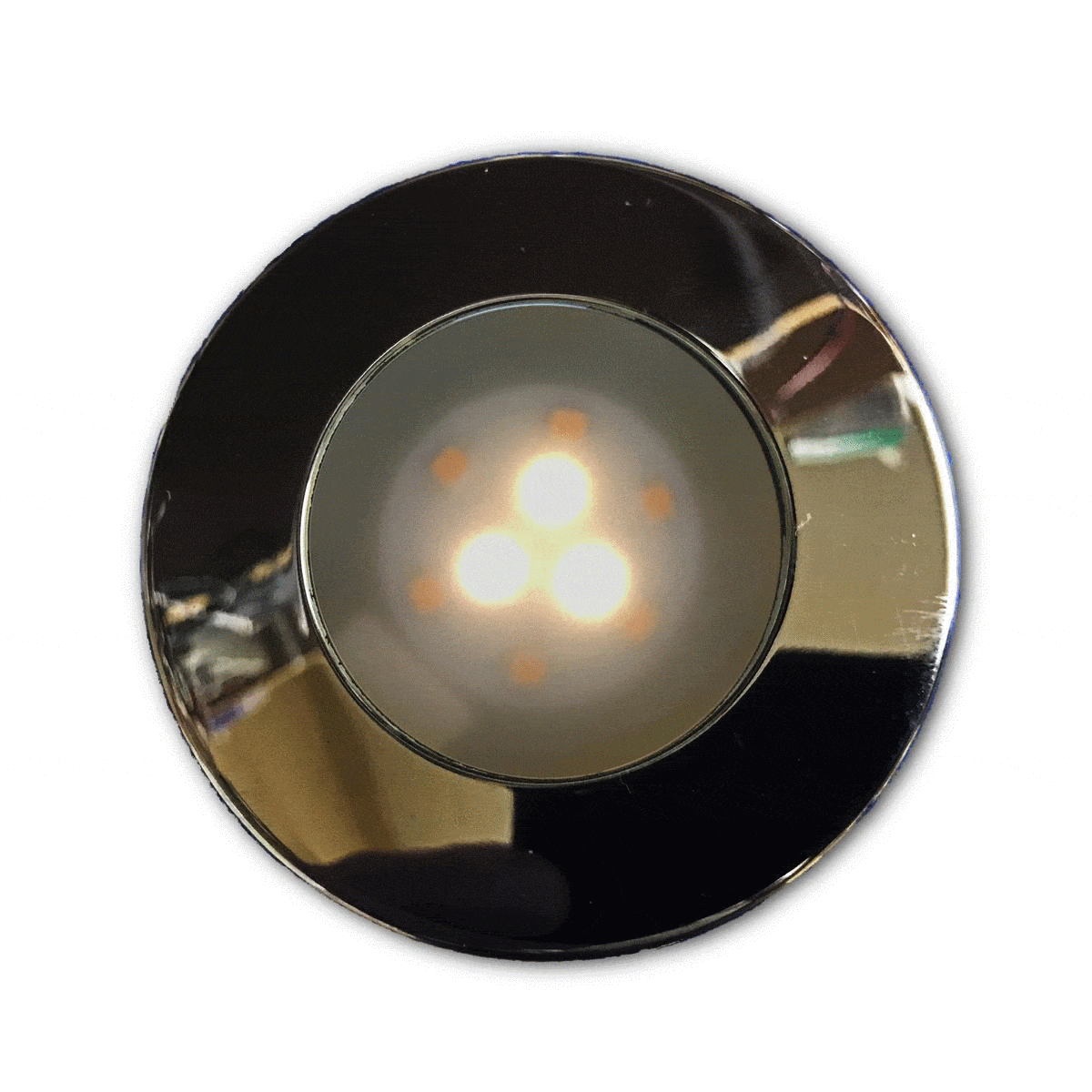 Great for changing the mood on-board. You'll always have bright lights when you need them, but you can also dim the lights down when the mood or the occasion suits you. This function is also great on offshore passages, allowing you to dim down the cabin lights to save power and night-vision, but be able to navigate down below.
As always, these LED bulbs feature Marinebeam's constant-current electronics, so are suitable for 12V or 24V systems. You can change out all the bulbs on a switched-circuit, or just a few, and still maintain the dimming function where you need it.
These bulbs are for back-pin type fixtures, and have extra long pins to allow fitment in virtually any back mount fixture, including Cantalup downlights, and bell-shaped reading lights. We also carry a side-pin version of this same bulb for fixtures which use a side mounted G4 bulb.
You won't be disappointed by this bulb's warm white output. It draws only 2W on High, 1.3W on Medium, and 0.7W on Low. That's less than 0.17A at 12V, even on its highest setting.
Product Videos
Custom Field
Product Reviews
I order 3 of these lights, and one of them wouldn't go to the lowest dimmed position. I called customer service, and without question, Nate said he would ship a replacement bulb out to me before I had to ask. What a great way to back up their products and ensure that I will buy from Marine Beam again first before going to any other vendor. Even though one of the 3 lights were defective, I am rating this 5-stars because they stand behind their product. I've been a Marine Beam customer for years, and will continue to be a loyal customer.

Great to have ability to change light level for given situation

I purchased three different types of LED back pin G4 lights - all white; 3-level dimmers; white and blue as part of our whole boat lighting refit. These are excellent! We could not be happier with the light outputs, the lower power consumption and reduced heat results. I decided to purchase and install these after buying a new masthead LED solution from Marinebeam earlier this year. That is awesome modern solution too!