Product Description
| | |
| --- | --- |
| LEDs: | (9) 2835 Emitters |
| Input Voltage: | 10 - 30VDC (Integrated Constant-Current IC) |
| Wattage: | 2 Watts (High), 1.3 Watts (Med.), 0.7 Watts (Low) |
| Amperage: | 0.167A at 12VDC |
| Beam Angle: | 120° |
| Color Temperature: | ~2,900°K (Warm White) |
| LED Package Type: | 2835 Type SMD |
| Lumen Output: | 180/120/60 (High/Medium/Low) |
| Base Type: | G4 Bi-Pin |
| Dimensions: | ø30mm x 5mm (+pins) |
| Polarity: | No |
| Dimmable: | Integrated dimming (High/Medium/Low) |
| Lifetime | 30,000 hours |
| Warranty: | 2 Years |
NEW BULB AT INTRODUCTORY PRICING!
High/Medium/Low built-in sequential dimming turns your existing On/Off switch into a dimmer - no rewiring needed.
No expensive external dimmers to buy, or extra wiring to run. Just install this bulb into your existing fixture. Then just flick your existing switch to step sequentially through the 3 brightness levels. So, should your mood find the lights a bit too bright, just flick the switch to set a new mood, and a lower brightness level.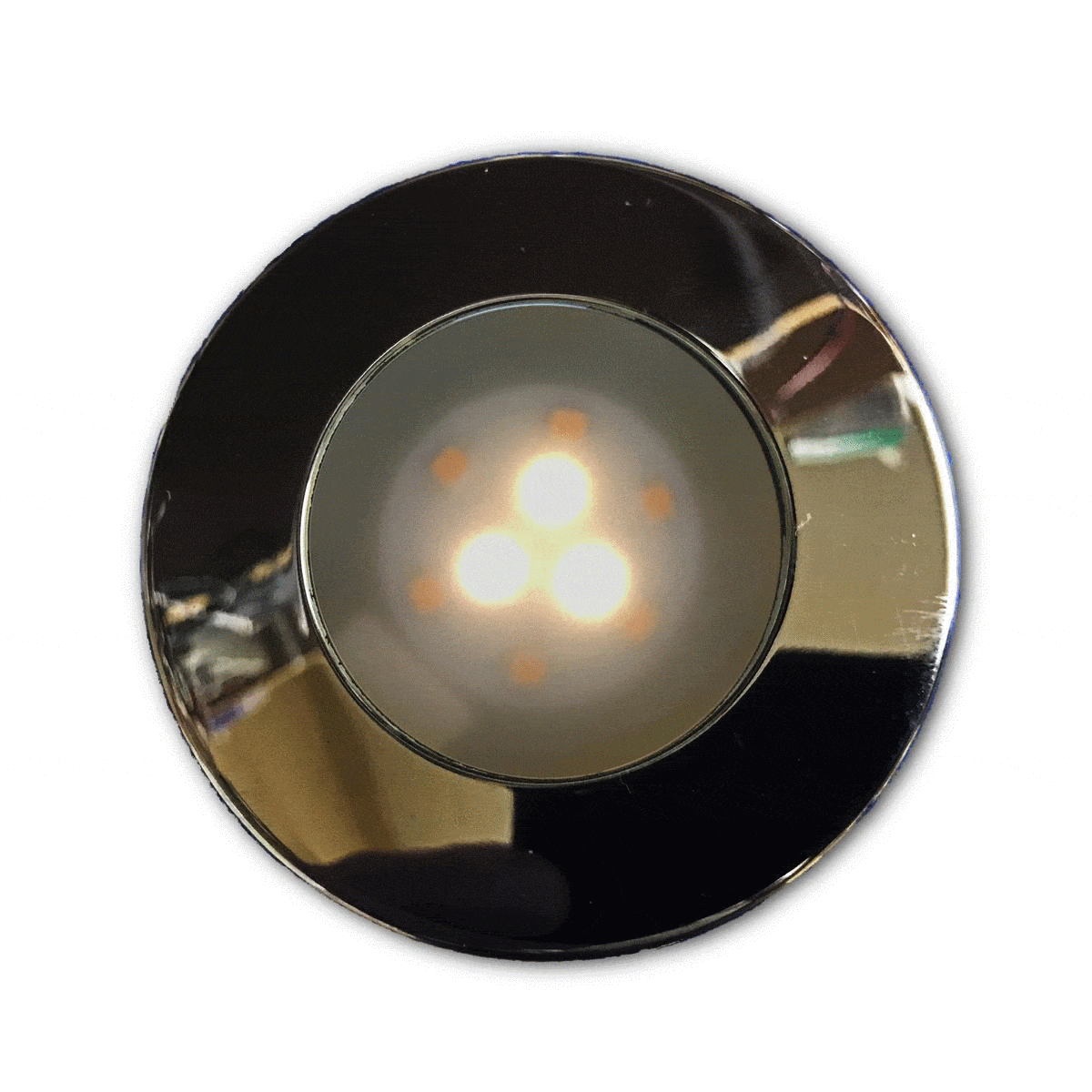 How does it work?
This bulb features the same constant-current electronics and super-bright warm white LEDs as our other G4 LED bulbs, but it also includes an on-board IC that varies the number of LEDs that are illuminated based on the sequencing of your existing on/off switch. A simple concept that is even simpler to use.
If the bulb has been off for more than about 5 seconds, it will always revert to its default start-up mode, which is full-brightness (180 Lumens, 9-LEDs). From this mode a simple flick of the switch (off/on) jumps to the next mode, which is medium-brightness (120 Lumens 6-LEDs). A final switching brings you to the low-brightness setting (60 Lumens, 3-LED). If you turn off the lights, when you come back later and turn them on, they will default to the full-brightness mode.
There is no limit to how many bulbs you can have on a circuit and still allow dimming. In any one circuit you can replace all of the bulbs, or just a few in areas that might be too harsh. No other dimmer allows this flexibility to dim specific bulbs. The best part is that when the bulbs are dimmed, they are also using proportionally less power. So, at 1/3 brightness, they are also at 1/3 the Wattage. Leaving the boat but still want it to look like you are aboard? Just dim the lights and conserve the power.
This bulb is 30mm in diameter, and will fit well into most small G4 puck lights like the one pictured (at left), but our extra long pins may need to trimmed slightly, or the fixture's redundant reflector removed, to allow the bulb to be perfectly centered as shown. Both are simple to accomplish, and we have a 100% fitment guarantee.
Product Videos
Custom Field
Product Reviews
G 4 side-mount sequential dimming led replacement lamp

Great light, about 20% brighter than halogen bulbs. Fit great, plug and play.

9-LED SIDE MOUNT G4 LED BULB W/ SEQUENTIAL DIMMING

I'm converting all my incandescent/halogen lights to LED. Ran across this GREAT solution for my cuddy cabin on my boat !!! The ability to have 3 different levels of brightness is really welcome. Brightest for eating meals, and lowest for kicking back and shooting the breeze...THANKS Marinebeam for making this available to me !!!

Installed our dimmable bulbs in our Motorhome today. Not available in Australia so thanks to a fellow motorhomer we found your online store. Very happy with them. Thankyou

Have installed our new dimmable bulbs in our motorhome. Not available in Australia so happy we found your site via a fellow Motorhomer. Work a treat