Product Description
Mirror-polished stainless steel 4-color LED recessed downlight for boats (12V or 24V operation). A very nice light for those wishing a high-quality recessed fixture with multi-color output. Quick-mount spring retainers makes installation easy.
This fantastic stainless steel LED downlight/ceiling light is perfect for indoor or outdoor use aboard your boat or RV. It works great as an interior cabin light, or installed under exterior T-tops, fly-bridges, etc. The lighting module and internal electronics are sealed against the elements to IP65, so it water-resistant and splashproof. It also has a swivel feature, which allows the center bezel/lens to pivot on brass bushings, thus directing the light to a preferred location.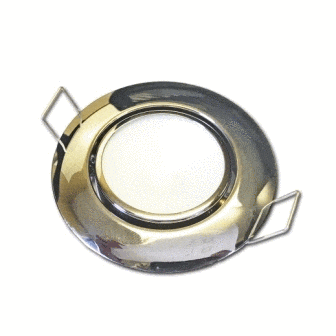 It features rat-trap spring-type mounting retainers, so its easy to recess mount instantly into a 2.5" hole. It features a 4-color single LED (White, Blue, Red, and Green), so it can change colors with a flick of a simple on/off switch. No extra wires, and no separate controllers needed. Sequencing a switch off/on, takes you to the next color. It cycles White-Blue-Red-Green, in that order. After it is turned off a few seconds, it will always revert to the default white upon start-up.
The white mode is a crisp daylight white (5500°K), but is not overly bright, about 80 lumens in white mode. Equal to the output of a 10W halogen, these work great in a typical cabin or overhead console.
This lamp has the quality and finish of a much more expensive fixture. You won't be disappointed.
Mirror-polished 304SS
For recess mounting in 2.5" hole
Low profile mounting, only 15mm (.59" deep) - Recommend additional 10mm when mounting for air flow clearance.
10-30VDC Operation
LED: 3W 4-in-1 RGBW LED White light is Daylight (cool) White (5500°K)
Drive wattage 2.6W
Current draw ~220mA (0.22A) @ 12VDC
Size: 78mm (3")
7 inch 20 AWG tinned connecting wires (red/black)
IP65 water resistance
Product Videos
Custom Field
Product Reviews
STAINLESS STEEL MULTI-COLOR RECESSED LED DOWNLIGHT - WHITE-BLUE-RED-GREEN

Plan is to use this in an aircraft. Appears to have minimal RFI. A similar type item from a major aviation supplier is over $300. Only major difference between the two is a dimming feature.

Multi colour recessed Led

Excellent fit. Direct replacement for my 3 inch halogen recessed lights. Easy installation. No additional wiring Uses existing boat wiring and switch. Great company to deal with. Tracking was precise

Perfect fit and finish

Love the multi color feature

These are simple to install and work flawlessly with your existing switch. Great colors!!!