This is one of the most significant and innovative safety devices that we have seen in a decade. It is an easy-to-use MOB alert and alarm device that doesn't require expensive receivers, or cumbersome installation to use. Can you say awesome holiday gift for your boater friends and loved ones? It quickly and easily pairs with any smartphone(s) or tablet(s) on board via Bluetooth. Should an MOB event occur, it alerts via your smartphone with a loud alarm, and instantly opens an interactive chart with a GPS recovery waypoint, along with heading and distance info to track back to the point where the event occurred. No cell-phone service is required to utilize the MOB and GPS track-back features described. For local fishing and coastal boating --where cell service is available-- it also features the ability to send an emergency text message with GPS coordinates to a pre-configured contact.
Available now at the Marinebeam Store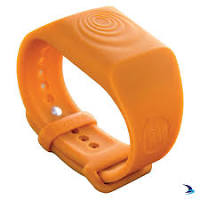 For $99, you really shouldn't be without one, especially if you cruise as a couple, or on your own. If you can use your smartphone, you can protect yourself and your loved ones with just a few taps on your phone.
We have tested this device over the last few months, and we couldn't be happier with its performance and features. The comfortable silicone wristband contains a removable "cookie", which can also be put in your pocket of your PDF or clothes. It couldn't be simpler or easier to use.
It works using a special low-energy usage Bluetooth signal, which is in continuous contact with your smartphone (iPhone or Android). Should you fall overboard, the device quickly loses contact with the paired phone due to immersion and/or distance. Upon the first loss of contact, a GPS waypoint is saved. There is then a slight confirmation delay before the alarm is activated, allowing a fail-safe method to avoid potential intermittent Bluetooth signals as you work your way around the boat. Very clever.
The vast majority of MOB deaths are from fisherman and boaters who are not declared lost at sea until it is too late, and the search area is too wide. Why risk that?
We personally are stocking up on these for our boater friends for Christmas and the holidays, and we think they are a great gift idea.