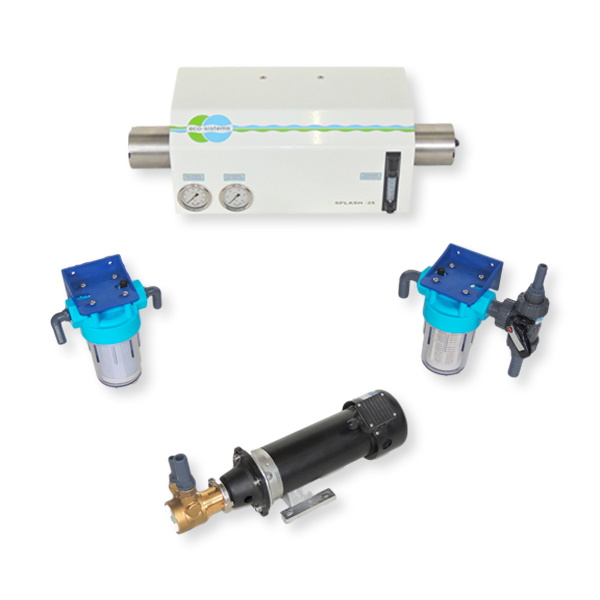 What do you do if you have a small cruising boat, without a big generator set, and you want to produce your own water using your 12VDC system? Unfortunately, there aren't many realistic options. Most reverse osmosis water makers are made for bigger boats, run on 120VAC, and take up large amounts of space. While you can certainly find 12VDC units, they are typically very expensive, and use too much power to make them really effective on a small boat.
After Marinebeam's big success with the MarineKinetix MK4+ wind generator, and other innovative cruising gear, we began thinking about introducing additional "comfortable cruising" products to the marine market. The ECO Splash watermaker is a perfect example.
The Splash 25 runs on 12VDC, makes 160 to 190 gallons per day, and draws about 13.3A. It uses up to 80% less energy than standard pump driven systems. The secret is the integral ceramic sealed "Clark Pump", which is an energy recovery intensifier that uses waste pressure from the previous stroke of the pump to pre- intensify the pressure of the next stroke. thereby making more pressure with less power.
Another innovation is an integrated RO membrane system, which makes the whole system very compact, without the typical pipes and plumbing between the components. Space is at a premium on small boats, and this sytem is very compact.
Available soon from Marinebeam.
Recent Posts
Every offshore sailor pines for a mast top mounted tri-color navigation light. It adds signifi …

Please come visit the Marinebeam and MarineKinetix crew at Cruising Solution's booth YB1 at the US S …

Well, if you have had guests aboard, you already know "that guy". He's the one that arrives empty ha …