Recessed Color Changing LED Cockpit Light | W - B - R - G
Recessed Color Changing LED Cockpit Light | W - B - R - G
Product Description
Waterproof LED Boat Light - You choose the color. Save energy and dress up your boat.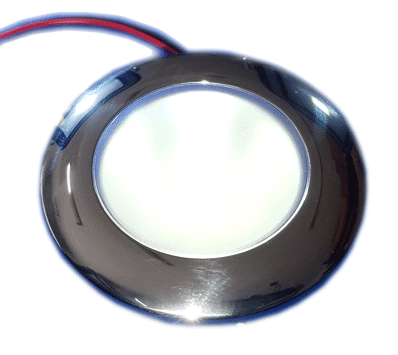 LEDs:
(12) RGBW emitters
Input Voltage:
12VDC - 15.5VDC
Wattage:
1 Watt
Amperage:
0.08A at 12VDC
Beam Angle:
120°
Color Temperature:
4,500°K (White)
Output:
90 Lumens White
Hole Cutout Size:
2-Inch Hole Required (50mm)
Mount Type:
Recessed (2 screws

ø60

mm pattern)
Dimensions:
ø2-3/4" (72mm) x 1" (25mm)
Dimmable:
Limited
Lifetime
30,000 hours
Standard recessed interior or cockpit lighting with a new twist! Toggle between a bright white light to blue, red, or green colors with a single existing switch. Switching colors easily allows you to pick your mood and color accordingly. Always starts in bright white. To switch colors in sequence, simply toggle an existing on/off switch.
Simple 2-wire connection. Mounts using 2 screws. Changing color works with a single on/off switch whether connected to single lamp or multiples in series.
Waterproof IP67-rated housing, with a stainless steel bezel, makes this light a perfect solution for replacing any current downlights or cockpit lights with minimal wiring and additional color options. Simply turn the light off and back on to scroll through colors: white, blue, red, or green!
This is a great looking weatherproof light, whether used inside the cabin, or out in the cockpit. It won't corrode or get moisture inside, and its LEDs last more than 30,000 hours.
Not for underwater use!
Product Reviews
Find Similar Products by Category
Customers also viewed